Blog » Marking the Rite: April CD Roundup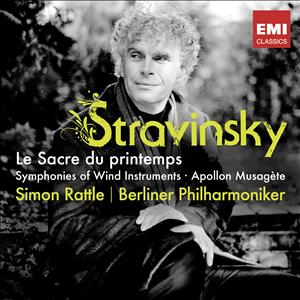 Timed to mark the hundredth anniversary of this most iconic of twentieth century masterpieces, Simon Rattle and his Berlin forces have just released a new recording of Stravinsky's Le Sacre du Primtemps on EMI. For those looking for a review, perhaps it would be easier for me to direct readers to the Guardian's Andrew Clements, with whose sentiments I largely agree. This is a Sacre of superb precision, opulently recorded. It certainly has energy but does it have danger? To my mind, Berstein in his 1958 New York Philharmonic recording achieves a snarling savagery that electrifies in a way that this performance does not. Also worthy of consideration is Boulez's 1969 recording with The Cleveland Orchestra or, as much a historical document as for its performance, the 1960 recording of the work with Columbia Symphony Orchestra conducted by the composer. This last recording, what is more, is available in a bargain-basement 22-disc boxed set of works by Stravinsky, conducted by Stravinsky.
Signum records have released a collection of songs by Richard Rodney Bennett – Letters to Lindbergh, The Aviary, Dream-Songs, A Song at Evening and Four American Carols – performed by the National Youth Choir of Scotland Girls' Choir. Many of the songs are great fun, showing Bennett at his most urbane, others, such as the atmospheric Dream Songs, reveal a profounder inspiration. They are all sung with gusto, if a little colourlessly, by the NYCoS. The programme is broken up by Over the Hills and Far Away, Bennett's imaginative arrangement of a series of famous folk and nursery tunes for piano duet.
Like a friend of mine who once effusively greeted Michael Berkeley by saying how much he loved Lennox Berkeley's music, I'm sure Anthony Payne wouldn't thank me for saying that the work of his with which I am most familiar is his marvellous completion of Elgar's Third Symphony. Those in the same position as me can put this right with a new release this month on NMC of Anthony Payne's Phoenix Mass. I've only been able to dip into the extracts on the website, but it is clearly an intensely serious, dramatic and poised work. Also on the disc is Paen for piano, The World's Winter, a setting of Tennyson for Jane Manning and the Nash Ensemble and his more recent (2006) Horn Trio. Apart from the Horn Trio all the works have been transferred from LP in the absence of original masters. The resulting sound quality is more than acceptable.
Also released on NMC is a recital by guitarist Antonis Hatzinikolaou. The disc takes its name from one of the great guitar works of the twentieth century, Nicholas Maw's Music of Memory, a set of variations on a theme from Mendelssohn's String Quartet in A minor. The programme is bookended by Maw's Little Suite Guitar with a varied programme of works in between: Joseph Atkins' Indian Summer, Peter Racine Fricker's Paseo, Matthew Taylor's Fantasy for Guitar, Bayan Northcott Fantasia for Guitar, Charlotte Bray's Passing Shadows and John McCabe's Canto for Guitar.
Dutton Vocalion have released a disk that celebrates Stephen McNeff's recent period as the Bournmouth Symphony Orchestra's Composer in House with recordings of his Sinfonia (2007), Heiligenstadt (2005), Weathers (2007) and Secret Destinations (2005). Naxos, meanwhile, continue their survey of the music of Peter Maxwell Davies with a new recording of his Strathclyde Concerto No. 2 and Sonata for Cello and Piano with Vittorio Ceccanti, Bruno Canino, the Orchestra Sinfonica Nazionale della RAI under the baton of the composer.
COMMENTS