Blog » Retorica Interview



Christian Morris talks to Harriet Mackenzie and Philippa Mo, who have just released their debut-disk 'English Violin Duos' on NMC.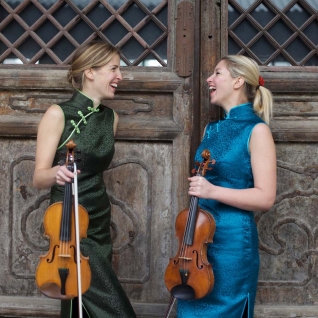 Retorica
Tell us a little about your background before you met each other.

Philippa: I started playing when I was 5. I had lessons and decided early on that I wanted to pursue the violin seriously and so that led me to the Royal Academy. I had a really good time there - I really enjoyed mixing with everybody and I think the best part of it was the chamber relationships that I built up. Probably one of the highlights was the fact that we were encouraged to study abroad for a year, so I spent my third year in China. That was a really wonderful experience. Then I returned to complete a masters course.

But presumably you'd met by the time of the trip to China?

Harriet: Yes, actually I think was slightly after then.

Philippa: We did coincide, but I'm a couple of years older than Harriet, so we started at different times at the Academy. I think on the music degree course everything is much more structured in the first two years, so you're quite entrenched in your year group. It was only when I was a postgrad that I was mixing with students of different year groups. That was probably when we really got to know each other.

>> Click here to read the rest of the interview

COMMENTS