Blog » Composers and Computers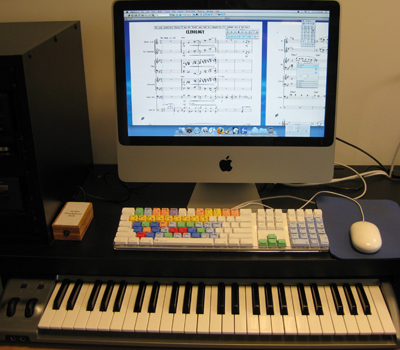 'He fiddles with the keyboard, commanding the computer to play an aria for mezzo-soprano and orchestra...In meekly peeping tones, the computer sings a sinuous, long-breathed melody, twisting and turning over lullaby chords.'
I was astonished when I first read this description of John Adams playing back part of a work in progress to Alex Ross in his The Rest is Noise. In my experience, computers are viewed with some suspicion in composing circles and, as such, the use of the technology is best shared only with friends, as if one were admitting to snorting cocaine. Adams, without shame, uses the playback function of his computer to show off a new piece to a journalist!
The anti-computer argument tends to go something like this: a computer limits the imagination because staff notation is limited; the balance and the sounds are not the same as the real thing, leading to inaccuracies of orchestration; computers can play things humans cannot, leading to music that is too difficult. Anyway, it is implied, writing a piece of music demands god-like talent. As such, computers facilitate the less talented to write music when really they don't deserve to.
I use a computer to compose. I don't see any difference between perfecting a piece of musical material using a piano (like Stravinsky) or a computer (like Adams), except that the computer gives a closer representation of how it might eventually sound. I also think it is perfectly feasible for composers to hear through the sounds their computers make to imagine real instruments playing. The idea that composers write music that is too difficult when using a computer strikes me as bizarre. Errors of range, lack of breathing points etc. are very elementary problems that can be avoided by musically talented schoolchildren. The limitations of Sibelius score playback can, however, be a problem in more advanced contemporary music. Here, a composer has to be honest with himself. If Sibelius is limiting your imagination you have to ditch it. And, as for composers being gods: some are certainly more skilled than others when getting their ideas down on paper, and here natural musical gifts (perfect pitch etc.) count for a lot. Ultimately, however, it is the quality of the final idea that matters.
What follows is a description from three composers of the equipment they use when composing, plus some comments on how they use it. For the record, I use an old laptop PC, a Creative soundcard and Sibelius 4. It's not a very advanced set-up, and, like Max Charles Davies and Liz Lane (below) I hanker after a Mac, especially after a week of trying to install Windows 7, to no avail.
I would be very interested to hear other people's comments, either on the use of computers in the composition process, or simply on the equipment used.
Phillip Cooke. He has had works played across the country by many of the country's top choirs and ensembles. Founder and former director of the London Contemporary Music Group, he has taught composition at Oxford University for several years and is also Head of Composition at Eton College.
The use of computers by contemporary composers is something of a white elephant - most composers use them in some form, but many are reluctant to discuss it. Many of those that do use Sibelius and the like and are happy to mention it, but would baulk at the idea of regular use of the playback function, even if most do use it regularly and discerningly - a strange 'open secret'. There is definitely still the assumption that 'good' composers use manuscript and 'lesser' composers computers.
I use Sibelius, but an archaic version (1.4) that I have used for ten years - many people laugh at me that I don't upgrade, but I'm so used to it, changing would be like trying to write with my left hand. I used to use awful free software before that, but spending the money to buy Sibelius was undeniably a sound decision. I do worry about composers (myself included) writing to the limits of the programme - some things are just so hard to do on Sibelius - doing something as rudimentary as a setting of Preces and Responses took hours of brainpower and struggle.
As for hardware, I have a PC laptop which works well for me - I can move it around for my teaching and try to catch some composing time wherever I am. I don't care about soundcards, or making the playback sound as realistic as possible - I'm used to the awful synthesised sounds and am actually quite attached to them. I can make the distinction somewhere in my brain between what a Sibelius clarinet sounds like (rabid cat stuck in a drainpipe) and what a real one does and I've never had a problem. Even with the awful choir sounds as well. I'm happy with a PC, I'm a creature of habit - I can never find the control button on a Mac.
Max Charles Davies. Former SPNM shortlisted composer. Based in Cardiff, his music has been performed by the BBC Symphony Orchestra, BBC National Orchestra of Wales and at festivals including Cheltenham and Tête à Tête.
Currently, I use Sibelius version 4 in conjunction with Kontakt Player Gold because, even though I only use playback as part of the proof-reading process, I can't stand MIDI sounds, and prefer samples. The reason I have not yet upgraded is largely due to cost - not the programme itself, but the new computer I would need to buy in order to be able to run it. I would dearly love to own a Mac - either an iMac or Macbook Pro, but they are out of my reach financially. Indeed, not owning a later version of Sibelius has made recent freelance editing work tricky, with 'back saving' being a bothersome extra thing for clients to think about, especially when dealing with large numbers of files. So, I do need to upgrade both computer and Sibelius version soon! Sibelius itself is a very intuitive programme, and over the years I've developed an ability to get pieces typeset quickly and to a professional standard. The 'export audio' function is also useful for those musicians who request a mock-up mp3 of a piece, or for doing a quick backing track for teaching purposes.
In addition to Sibelius, I use a Roland R-05 portable recording device to record performances, rehearsals, workshops etc. It's a wonderful piece of kit, and I believe that there are many such devices floating about. I often see composers with them. On my current computer, I use the free programme Audacity to do the most basic bits of editing (mainly cropping and fading in and out). If I upgrade my computer soon, I may save further and eventually invest in a copy of Sonar, which will also enable me to experiment with some electroacoustic composition - an as yet uncharted territory for me personally.
Visit Max Charles Davies's Website
Liz Lane. Composer and arranger. Her works have been played by the Orchestra of Welsh National Opera, Carducci Quartet, Andrew Kennedy, Marlene Ford (USA) and others. As an arranger she worked extensively with the late David Fanshawe.
I use Sibelius 6 at the moment and Finale occasionally. I started with Finale in about 1996, swapping in 2004/5. I have a standard mid-range computer, recently bought, though I wish I had an Apple!
I used to have a top-of-the-range Soundblaster soundcard, but found I just didn't use the functions, so, with the new system, it didn't warrant the outlay. Soundcards are much improved these days and anyway I prefer to rely upon my imagination. Portability isn't an issue for me since I work from home, though I make printouts of work in progress for use at the piano or when I really have to work somewhere else. My keyboard is a tried and tested old Yamaha I bought from a colleague 15 years ago!
I use a HP1015 printer for producing scores, though I will have to replace it soon as Windows 7 doesn't support it. It has good print quality, although creating perfectly aligned pages is often a challenge! I also use a monochrome Samsung ML-1640, a more recent make though the print quality for music isn't so good. I want to buy a new laser monochrome that does duplex well.
COMMENTS

jsg
commenting on
Composers and Computers
:
19 February 2012 at 00:32
From another composer's perspective, I use computers to compose, I also use them to interpret and produce music and to make the recording. Music will always be a performing art, to be sure, but music is not only a performing art. There are numerous advantages, from the composer's perspective, that computer-based composition and realization offer. I imagine Bach would have embraced computer-based instruments it with joy and passion, Chopin, not so much if at all.
I use Sonar to sequence, compose, orchestrate and mix my compositions. I use software synthesizers like Tera or Massive orchestrated with acoustic instrument samples, including orchestral instruments, choirs and individual vocal samples. I often program software synthesizers and build pieces around one aspect of the timbre or another. I enjoy editing on a micro-level, to sculpt the velocity, length, timbre, attack and release of a note, to make a phrase "sing", with intent, purpose, intention and poetry, to move a phrase early or late by 20 ms and compare how that impacts the orchestral timing and texture, to try out different orchestrations and compositional approaches. I like it even more when there are live musicians or other creatives involved singers, soloists, animators, etc. Doesnít all artistic creation, by definition, contain meaningful illusion behind the sensory experience? To "design" an ensemble from scratch: A percussive instrument from the Middle East, a flute from South America, an Irish harp and a violin, for example. Instruments that inspire the composer to integrate influences and timbres from regions of the world that, from a traditional perspective, do not come together very often.
Some say I do a "mock-up" for a live ensemble, the dominant assumption being that as composers wish for a sonic, and musical, ideal, the best composers would always choose to work with fine players. Well, of course, there are many reasons to work with live musicians. My own intent however is to create and interpret, not to mock, or mock-up. I donít consider the results I get to be a mock-up any more than a photographer would consider a photograph to be a mock-up for a painting, or that a film director would consider his film a symbolic substitute for the "real" thing: The live play on stage. There are polarities in art and the more that art explores the extremes and the full content between the polarities, that art will both mean something real in the moment and help evolve artistic expression, at least for that artist. The medium conveys information. Musicians who work in the electronic medium are learning and trying to master how to humanize a machine, how to give voice to a living, expressive musical language using relatively new intricate and precise musical instruments.
One difference between computers and acoustic musical instruments is that while the latter are played, the computer is often programmed to play-back. Naturally, the computer, with appropriate software, can join the ensemble or orchestra of live players, or soloist, very effectively, and now the iPad is becoming a popular way of playing (yes it can be played) music. So even that distinction is blurring in this time of intense technological change.
Jerry Gerber
www.jerrygerber.com
Comment on this post
To comment on this post please
become a member or
Login