Blog » Nico Muhly and the English Choral Tradition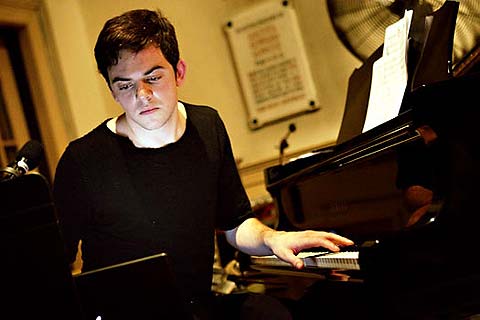 If my review of Nico Muhly's new CD out on Decca (15th June, below) seemed a bit provisional, that was because it was. I think it is difficult and often dangerous to make snap decisions about a composer's music, especially one who is relatively new on the scene. For this reason I have never, not for one second, envied the job of music critics. The music critics have, however, delivered their verdict on Muhly's new opera Two Boys. Sadly, they have been lukewarm. I won't go into them in any detail, you can read them here (Telegraph), here (Guardian) and here (London Evening Standard). It is interesting to note, however, that the audience response seems rather better. Take a look at the review on What's on Stage here, for example. I won't be able to get to see the opera at ENO, which is a shame because the scenario strikes me as being very interesting; sort of Brittenesque corruption of innocence in the Internet age. Were any readers there? It would be good to hear some alternative opinions.
Despite missing out on the opera, I am, nevertheless, on a mini-quest to form more of a definitive opinion of the composer. One of the keys to understanding his music is the description of him in the biography on his website as 'a former boy chorister'. This may sound like a curiously irrelevant phrase in the biography of a composer who has three discs out on Decca and an opera being performed at ENO. But Muhly grew up singing at Grace Episcopal in Providence, a church with a strong Anglican choral tradition. For those on the outside of this tradition, it is difficult, perhaps, fully to appreciate the length of shadow cast by this kind of musical training. Certainly Muhly's oft-quoted enthusiasm for late renaissance English polyphony stems from this time and, as I noted in the CD review, exerts a definite influence on his musical textures. More prosaically, it exerts an influence over the types of music he writes. Of course, that means plenty of choral music, but also music specifically for the Anglican choral tradition including, so far, a mass setting, a set of evening canticles, various motets and more than the average amount of music that includes organ.
I have never been an Anglican music insider, but do have more than a passing acquaintance with the repertoire and its function within the liturgy. One of the chief challenges of a composer is to provide something liturgically appropriate and yet musically worthwhile. The music of a good many twentieth-century composers has remained inside churches for the very reason that they were too respectful of the former and thought too little about the latter (though I think it is also fair to say that some composers have been unfairly left in the pews and deserve wider exposure). Is it just me, but is Muhly's liturgical music just a little bit too respectful, a bit too safe? Take, for example, his mass setting Bright Mass with Canons. The Kyrie and Gloria, he says, 'reference the imitative writing of early English composers Byrd and Weelkes'. I can certainly admire the renaissance-like restraint in both movements, but I also wish Muhly would 'let rip' a bit more. Surely, for example, that organ figure in the Kyrie could have been made more of? And the builds that do occur don't really seem adequately carried by the harmony and so fall a little flat, such as at the end of the Gloria. Renaissance polyphony, especially in the hands of a good conductor, is indeed often restrained, but it is also, by turns, fervent and impassioned. It cries out to God.
My Muhly quest will continue. I shall certainly be getting hold of Two Boys at the first opportunity that presents itself. But in the meantime I will look elsewhere for my liturgical musical pleasures.
For more information on Nico Muhly visit:
http://www.compositiontoday.com/interviews/nico_muhly.asp
http://en.wikipedia.org/wiki/Nico_Muhly
For a good disc of his church music:
http://www.deccaclassics.com/cat/single?PRODUCT_NR=4782506
COMMENTS

ruska02
commenting on
Nico Muhly and the English Choral Tradition
:
01 July 2011 at 21:23
This guy is so spoiled that I am disgusted. he s one of the worst composer ever presented and his work does not deserve a comment. i do not know why the put so much money into him but probably is because they think he is easy and therefore may convince the masses. Poor , little, sick artistic directors of theaters and recording companies ...keep on loosing the battle with history robert david rusocni

Christian Morris
commenting on
Nico Muhly and the English Choral Tradition
:
03 July 2011 at 14:49
I notice you have a background in church music. Were my comments short of the mark? Too kind? I'd be interested to hear your thoughts.

Christian Morris
commenting on
Nico Muhly and the English Choral Tradition
:
04 July 2011 at 11:35
As a little PS, and to be fair to Muhly, it is worth reading the reviews of 'Two Boys' here (http://www.independent.co.uk/arts-entertainment/classical/reviews/two-boys-english-national-opera-2302721.html) and here (http://www.express.co.uk/posts/view/255746/Opera-review-Two-Boys-English-National-Opera), which arenít at all lukewarm.
Comment on this post
To comment on this post please
become a member or
Login